When an incredibly diverse and rich community of online bloggers wants to celebrate ten years together how do they do it? As it turns out, a Blurb book.
If you have a chance, take a look at LiveJournal: The First Decade. This "best of" book quickly pulls you in with wide-ranging material from LiveJournal (LJ) users who gather around everything from food, fiction, crafts, and photography to world events large or small. It's quirky, fascinating, and proof that all of us have a story to tell.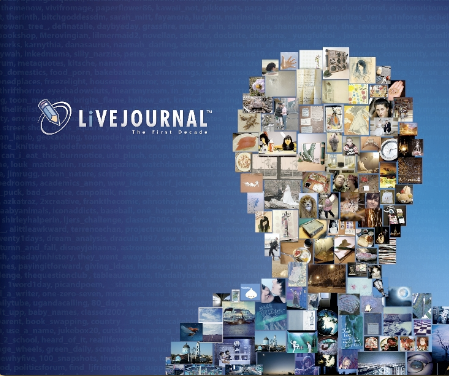 Blurb caught up with Marta Gossage, LiveJournal's (LJ) Community Relations Manager and long-time LJ user. Read on for her story on how the book came together and the one thing they almost forgot to do.
Blurb: LiveJournal is all about online so why a book?
Marta: We were looking for a tangible way to represent LiveJournal's first ten years, and settled on a Blurb book.
Blurb: How did you pull it all together?
Marta: It took about a year from concept to completion. We called out to LJ users and asked them to send us their favorite posts, and then we had an editor cull through it.
Blurb: How about the actual design of the book?
Marta: Again, we knew it would take some expertise so we hired a designer from BlurbNation. The big challenge was taking what was in many cases a beautiful page on the web and make it into a beautiful page in a book.
Blurb: So how did it go?
Marta: Better than I could've imagined. And it was great to rediscover posts that had appeared over the ten years. It's like a time capsule.
Blurb: Are there any that stand out in your mind?
Marta: There's one section of the book called In the World which includes posts written about New Orleans post-Katrina and a [post by a person whose partner was unjustly being held in prison in Dubai. By the way, LJ users helped free the guy in Dubai by drumming up media attention. I also really love Hip Domestic's fondue recipes. To be honest, there's a lot in this book that I love.
Blurb: Okay, shameless transition here: Do some of your LJ users make books?
Marta: Yes, definitely. Blurb BookSmart® automatically slurps content from LiveJournal right into a layout so it makes it easy.
Blurb: Thanks for the plug. Now how about some advice for would-be bookmakers?
Marta: One word of advice is to explore the page layouts. You don't have to stick with just one. Be creative. Use the colors that are available. Change it up.
Blurb: And your top secret tip?
Marta: Okay, it's not secret and it's going to sound silly but at the very last minute we realized that we forgot to put the URL for each post and we worked fast to remedy that. So, don't forget to add that to your book. It may be obvious to you but it might not be obvious to the reader. Add your link so people know where to find you online.